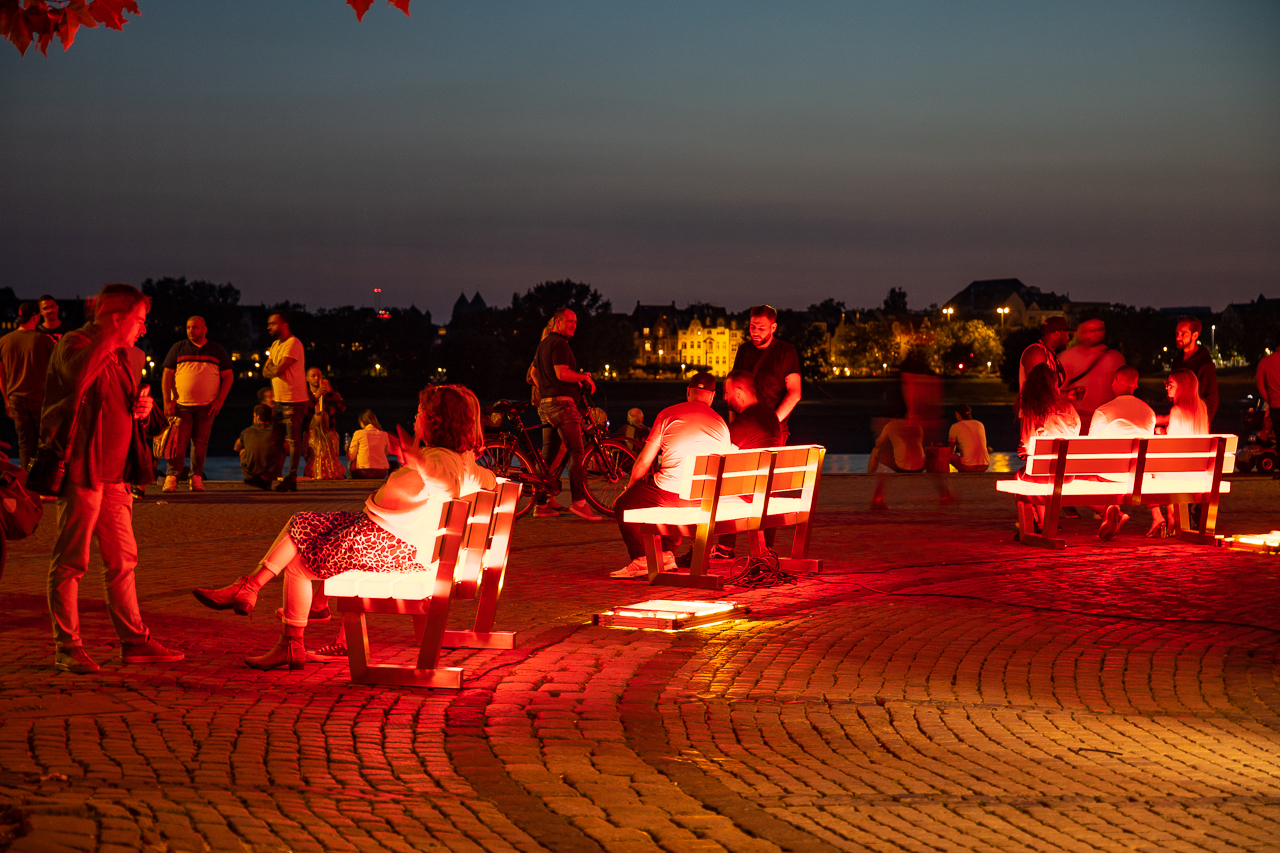 Der 22.6.2020 setzte ein Zeichen für die derzeit sehr stark leidende Veranstaltungsbranche. Über 6500 Gebäude, Firmen, Künstlergruppen haben ein rot leuchtendes Zeichen gesetzt um Menschen und Politik auf die Probleme hinzuweisen.
Auch wir haben mit einer mobilen Installation ein Zeichen gesetzt und mehrere lightbench direkt am historischen Schlossturm auf dem zentralen Burgplatz in Düsseldorf installiert. Zusammen mit SIGMA (die den kompletten Turm mit einer Projektion inszeniert haben) und Hans-Jürgen Müller vom Düsseldorf Festival, der uns in der Logistik und Infrastruktur mit seinem Team unterstützt hat.
Unzählige Selfies wurden gemacht, tausende von Menschen haben die leuchtenden Bänke begeistert für sich genutzt. Einmal mehr konnte die begeisternde Wirkung unserer Lichtobjekte anschaulich gezeigt werden.
June 22, 2020 set an example for the event industry, which is currently suffering very badly. Over 6500 buildings, companies, groups of artists have set a red glowing sign to inform people and politics of the problems.
We also set an example with a mobile installation and installed several lightbench directly at the historic final tower on the central Burgplatz in Düsseldorf. Together with SIGMA (who staged the entire tower with a projection) and Hans-Jürgen Müller from the Düsseldorf Festival who supported us in logistics and infrastructure with his team.
Countless selfies were taken, thousands of people enthusiastically used the glowing benches. Once again, the inspiring effect of our light objects could be clearly demonstrated.
#nightoflight #lightart #lichtbank #düsseldorf #LCO